a Mid Century Mod by F. Carter Williams, FAIA – currently under renovation – Buyer to pick finishes!
714 Lake Boone Trail, Raleigh NC
Base Price: $750,000
CLOSED: $757,000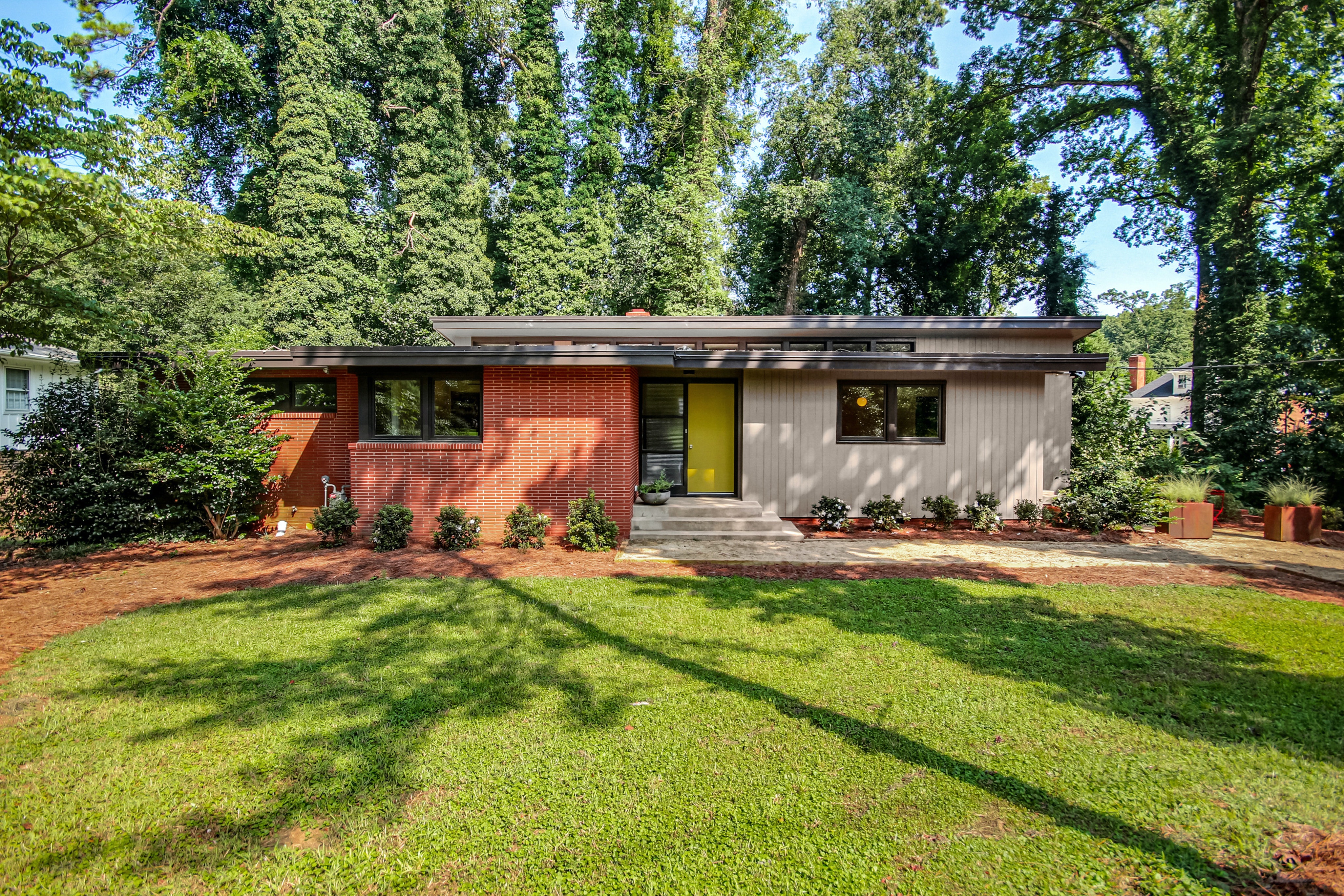 NOW IS YOUR CHANCE! Make this house your own: the owner/builder/architect is providing generous allowances so Buyer can have the opportunity to pick finishes and upgrades. Always wanted sculptural pull knobs (rather than the Wayfair specials that all the flippers are using?) or that italian porcelain countertops?
All the not-so-fun stuff has already been completed: new HVAC, electrical, plumbing, insulation, new roof on the "pitched" side, new drywall, new windows, hardwood floors refinished, etc. You can design your kitchen – pick your cabinet facing for the custom built plywood cabinets, drawer pulls, your countertops, tile, appliances. You can also decide if you want upper cabinets or open shelving to keep the room light and bright. Pick your bath fixtures, tile, countertops, mirrors. You can even pick your toilets.
The architect/builder/owner, Marshall Dunlap of Beyond Tomorrow Design Build, will complete the installation of your selections prior to closing. Added Bonus: If you would like to have additional work done (say, enclosing the carport with floor to ceiling glass for a cool art studio/office) he can work with you to realize your second phase of this amazing piece of Raleigh's architectural history!
The home was originally built for Elmo and Alice Williams in 1955. Elmo Williams was the manager of the Piggly Wiggly in Five Points – now NoFo (home of the best bloody mary's, and a wonderfully unique flying pig chandelier!)
Architect Gil Slack purchased the home in 1967. Mr. Slack worked with architect Leif Valand and Terry Waugh, until going out on his own. He was the architect of the Roses' department store, and there were much of his architectural practice equipment and rolls of drawings in the home upon his passing in 2017.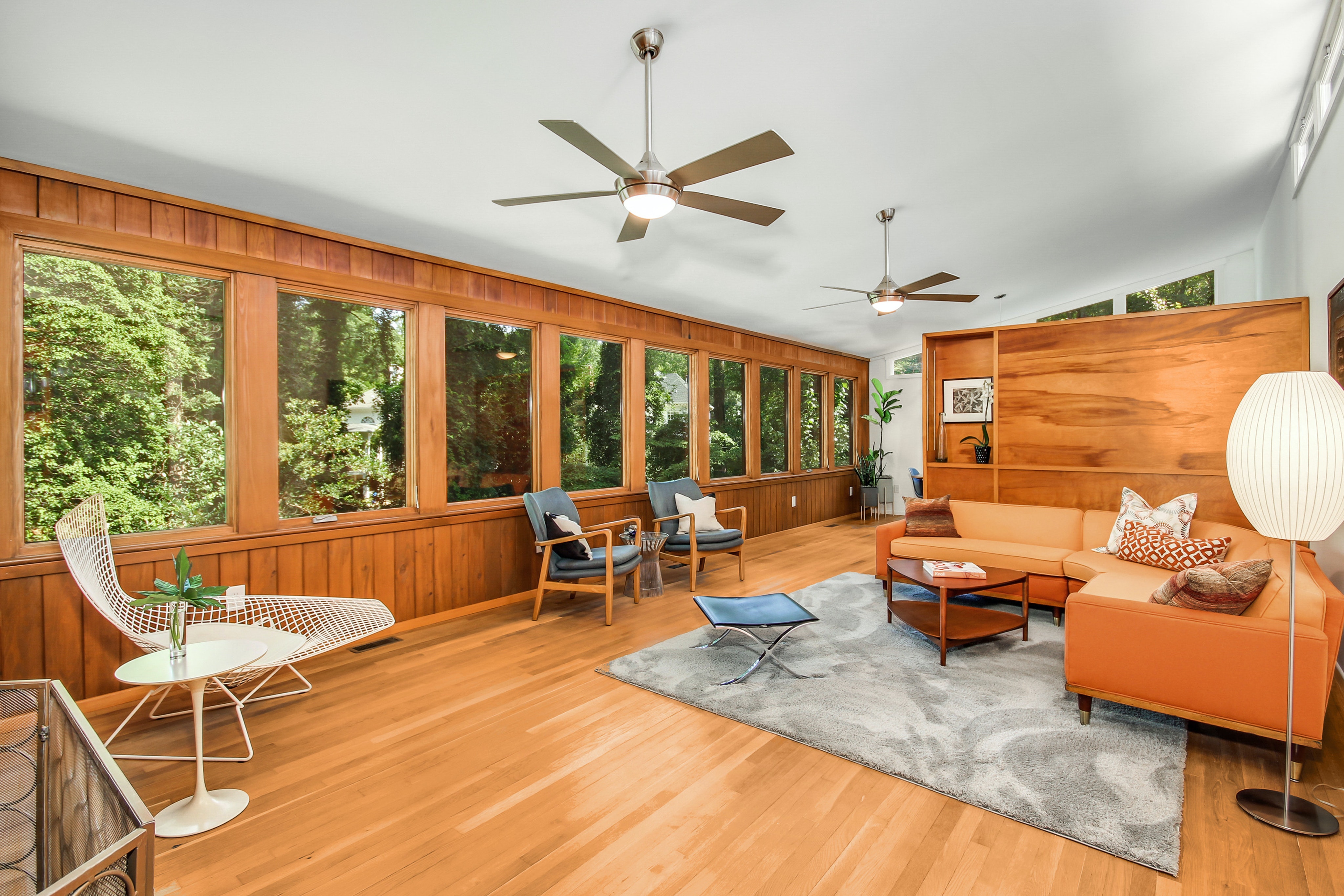 The home has many unique features – and original built-in cabinets. The one the separates the dining room and living room can be moved (but you will need some very strong backs to help)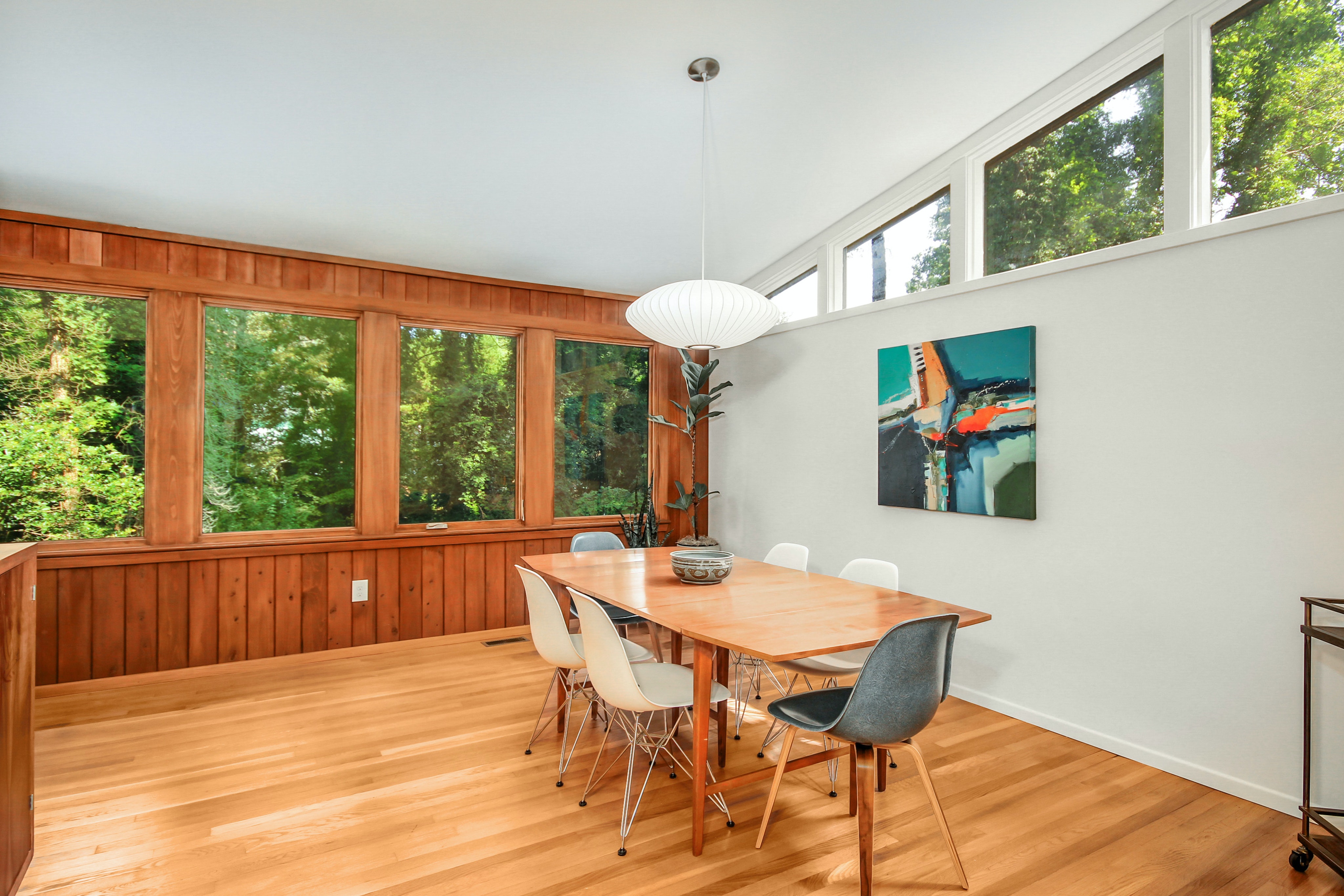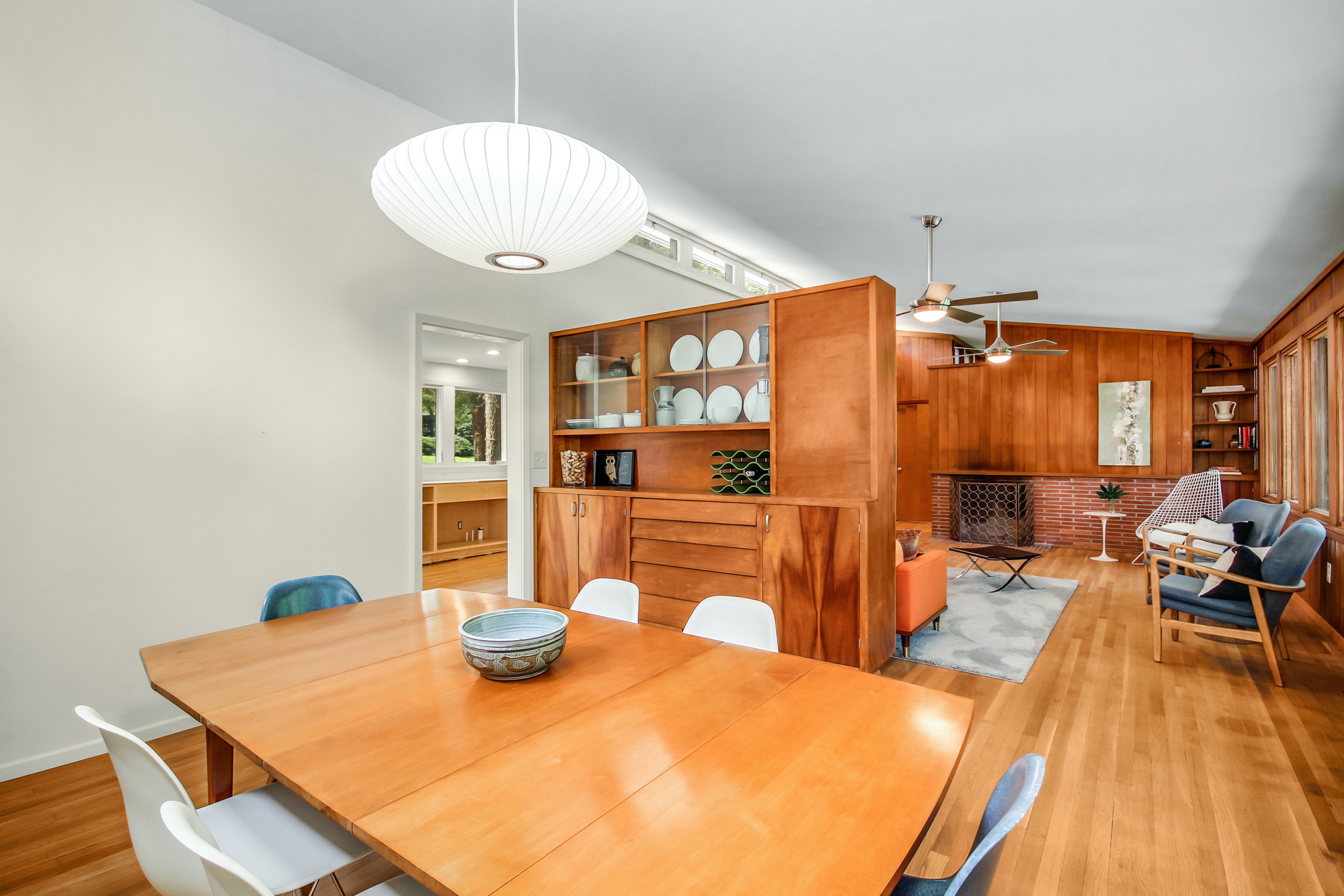 Living Room – with original fireplace and clerestory windows. (recognize that swanky circular sofa? It was originally located in the F. Carter Williams home, "Blue Haven"! so perfect for the space so we had the new owner bring it in especially for these pictures)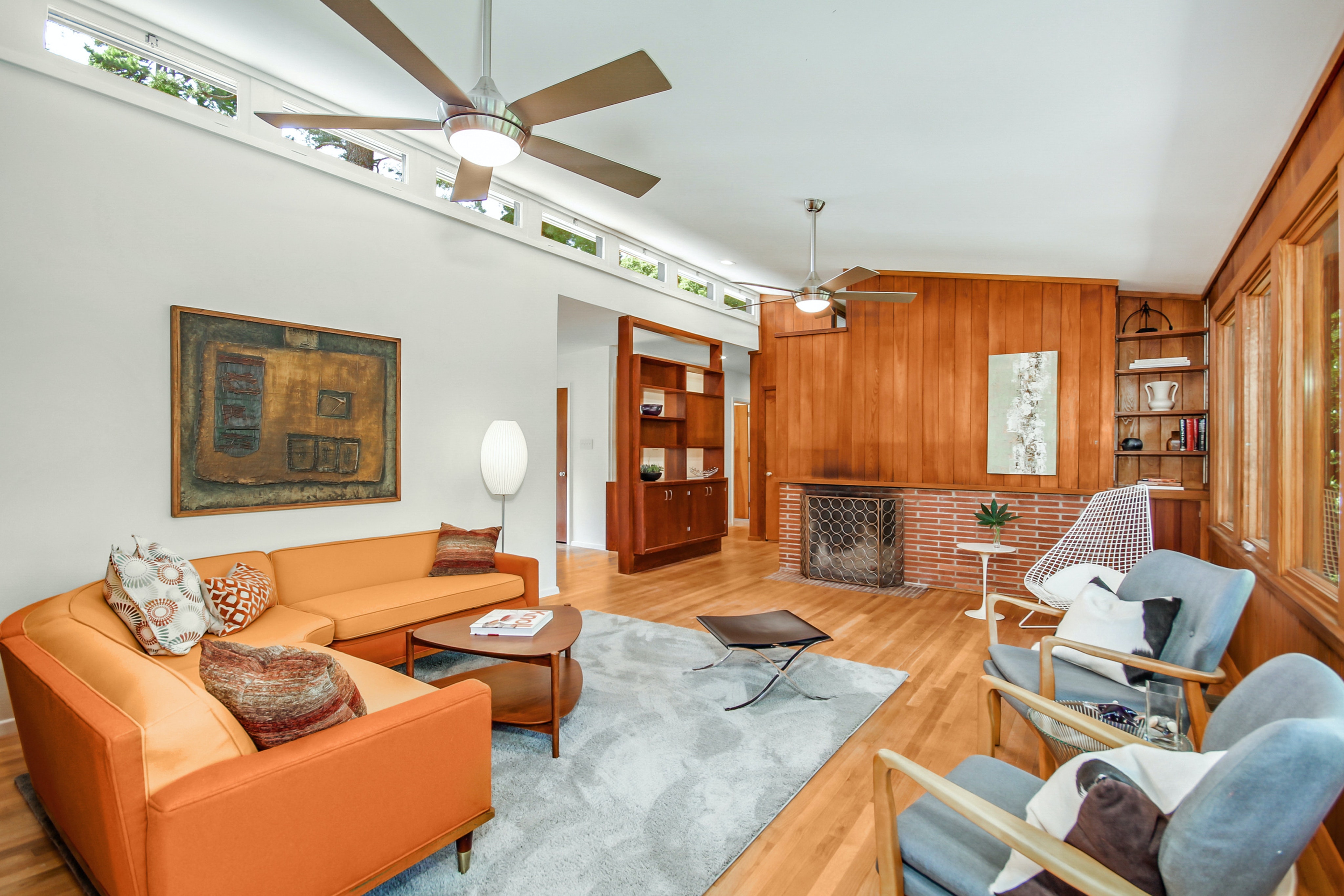 Kitchen – with cabinet boxes in place – ready for selections: the original reed glass and door was retained. These windows look out over the front yard. There is an opportunity to create a morning courtyard or kitchen herb garden at this side door.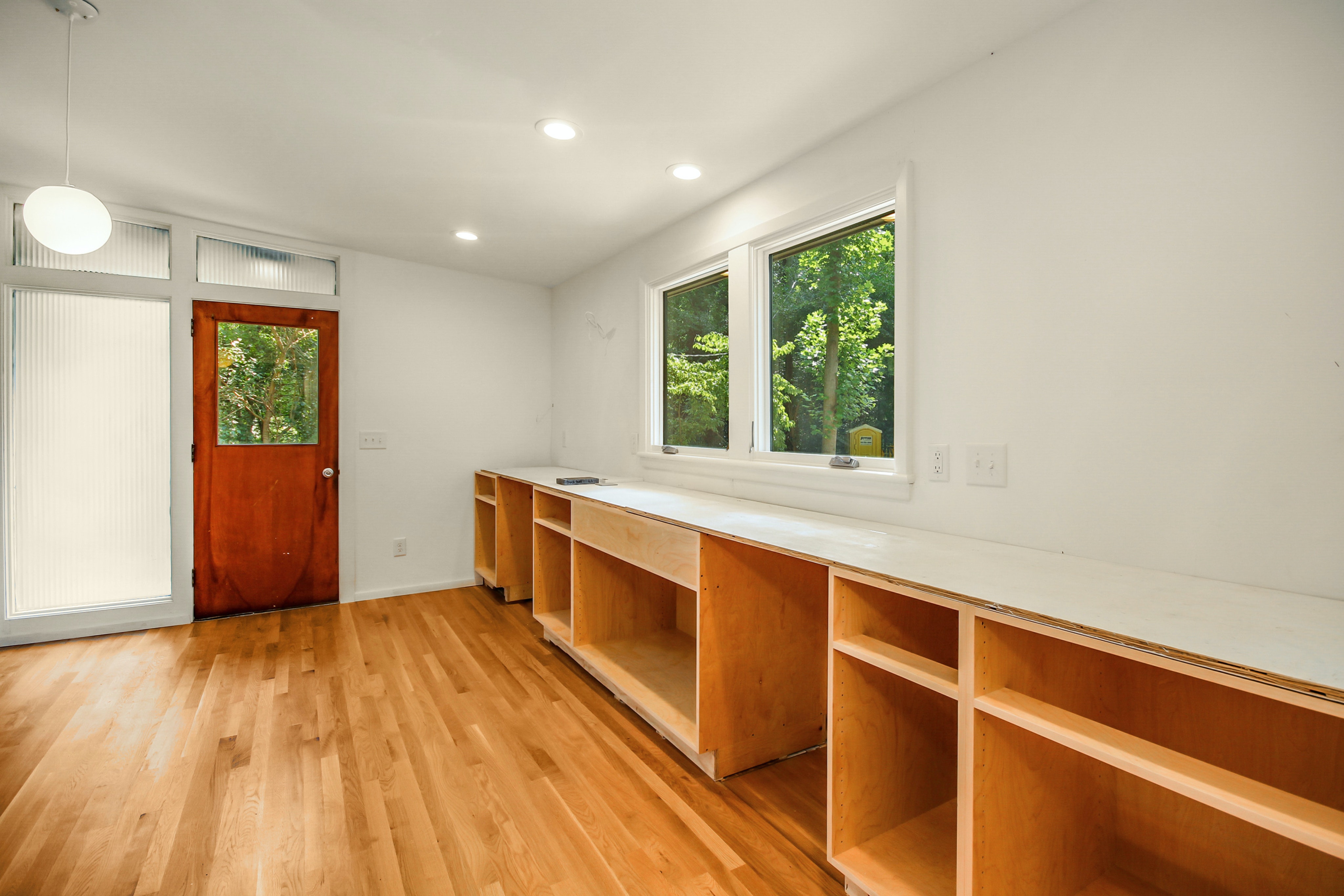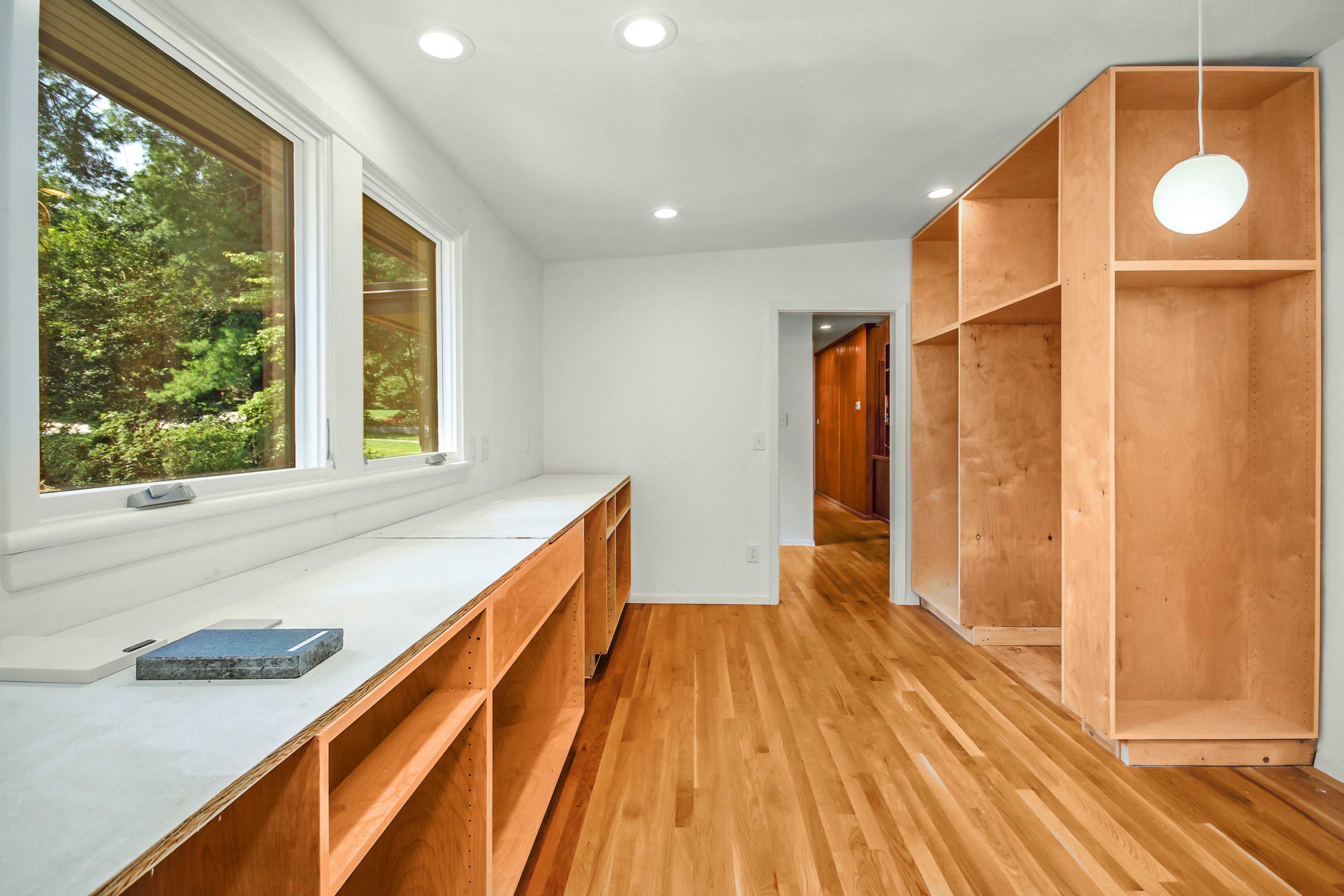 There is a den/office (complete with a fireplace, gas logs to be added)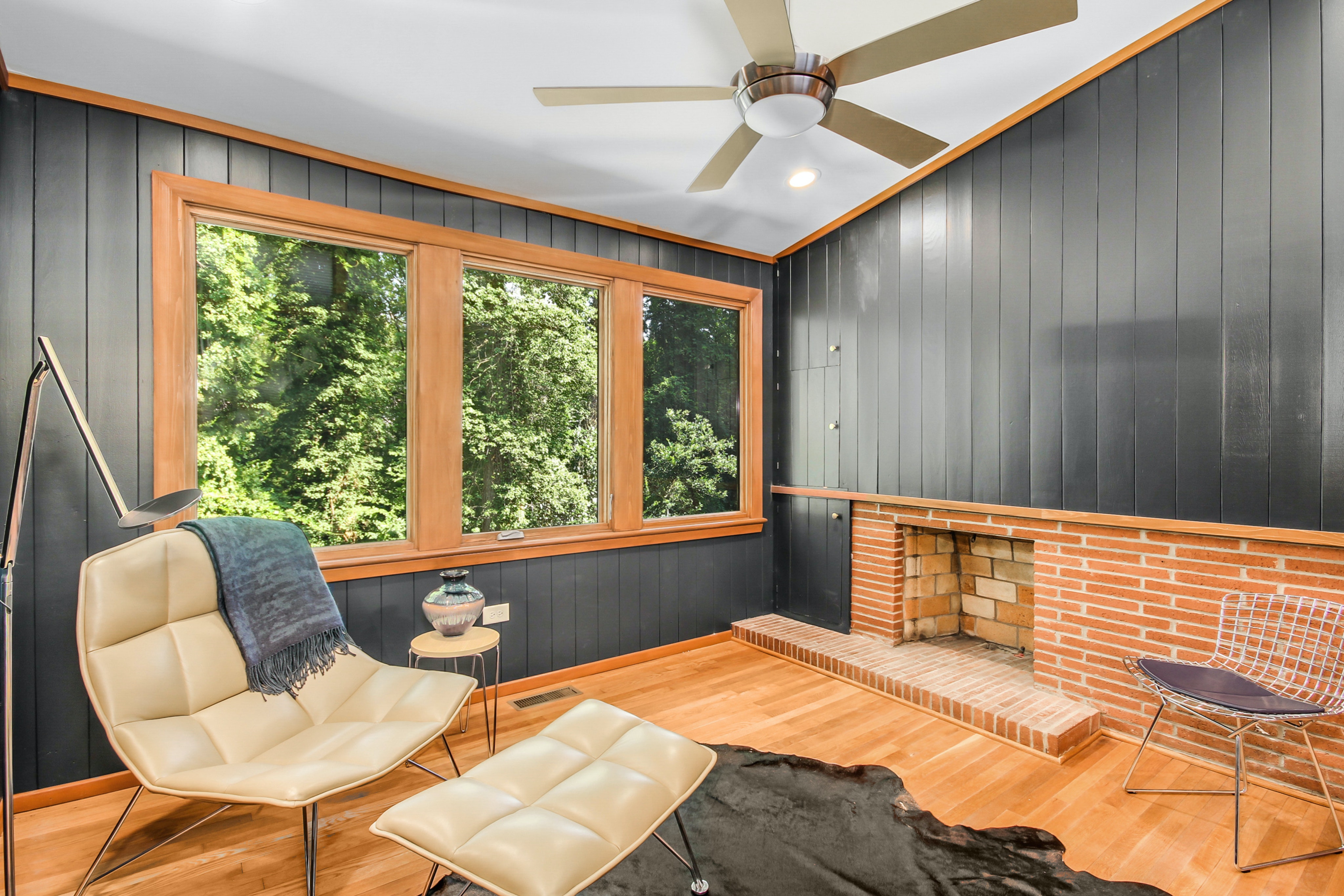 a Secondary bedroom with corner windows,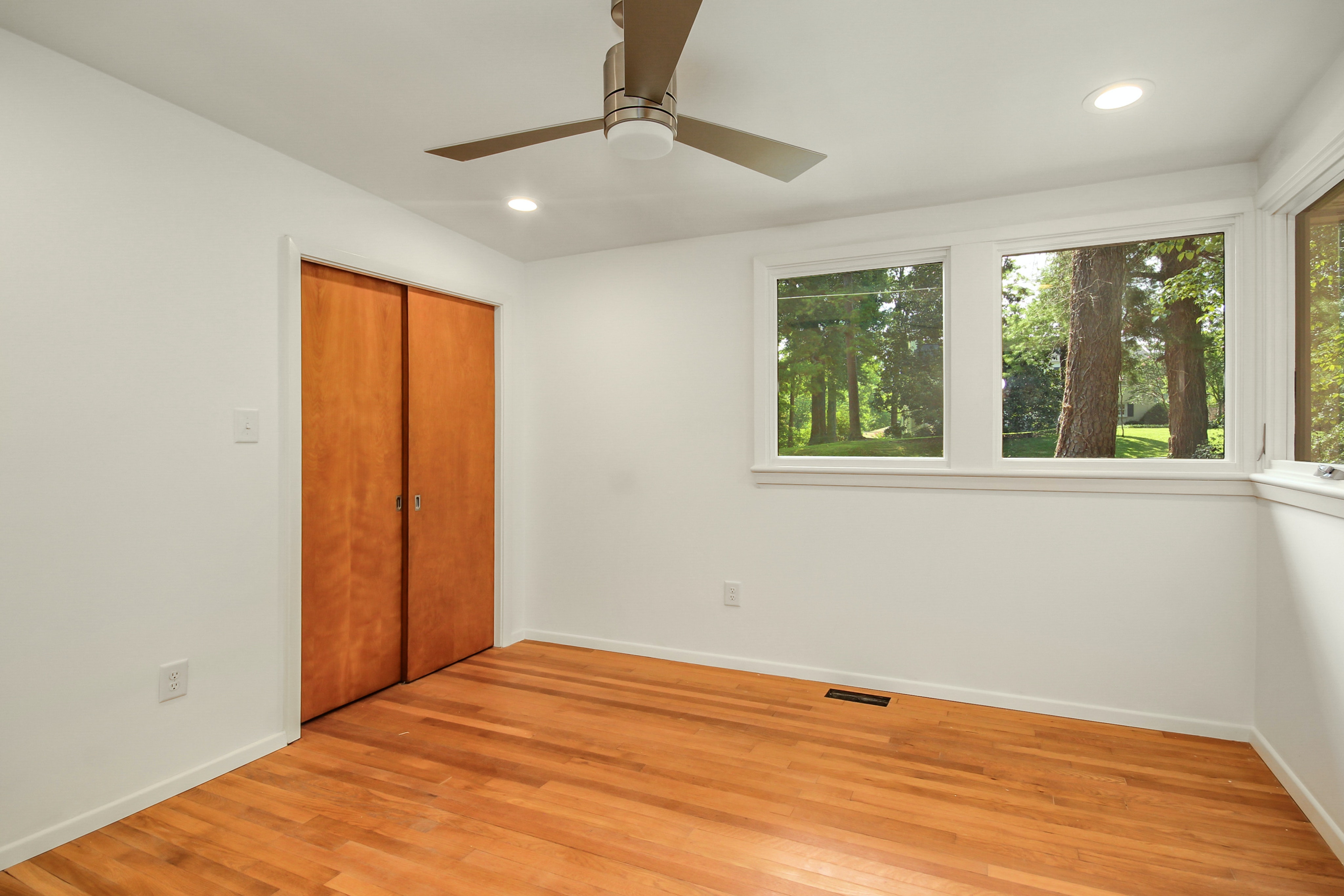 and the owners bedroom/en suite bath, with a deep built-in set of drawers/cabinet, and clerestory windows: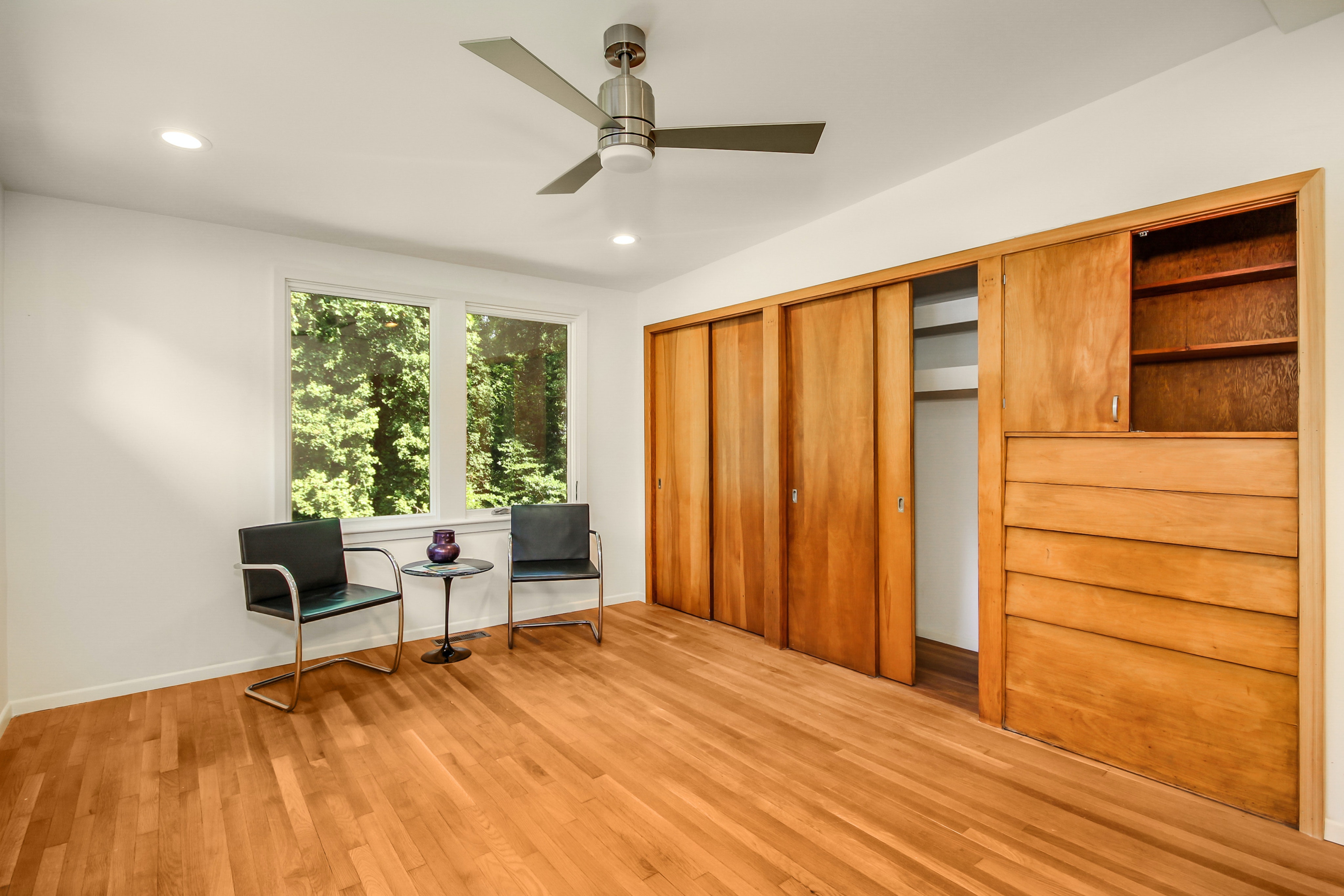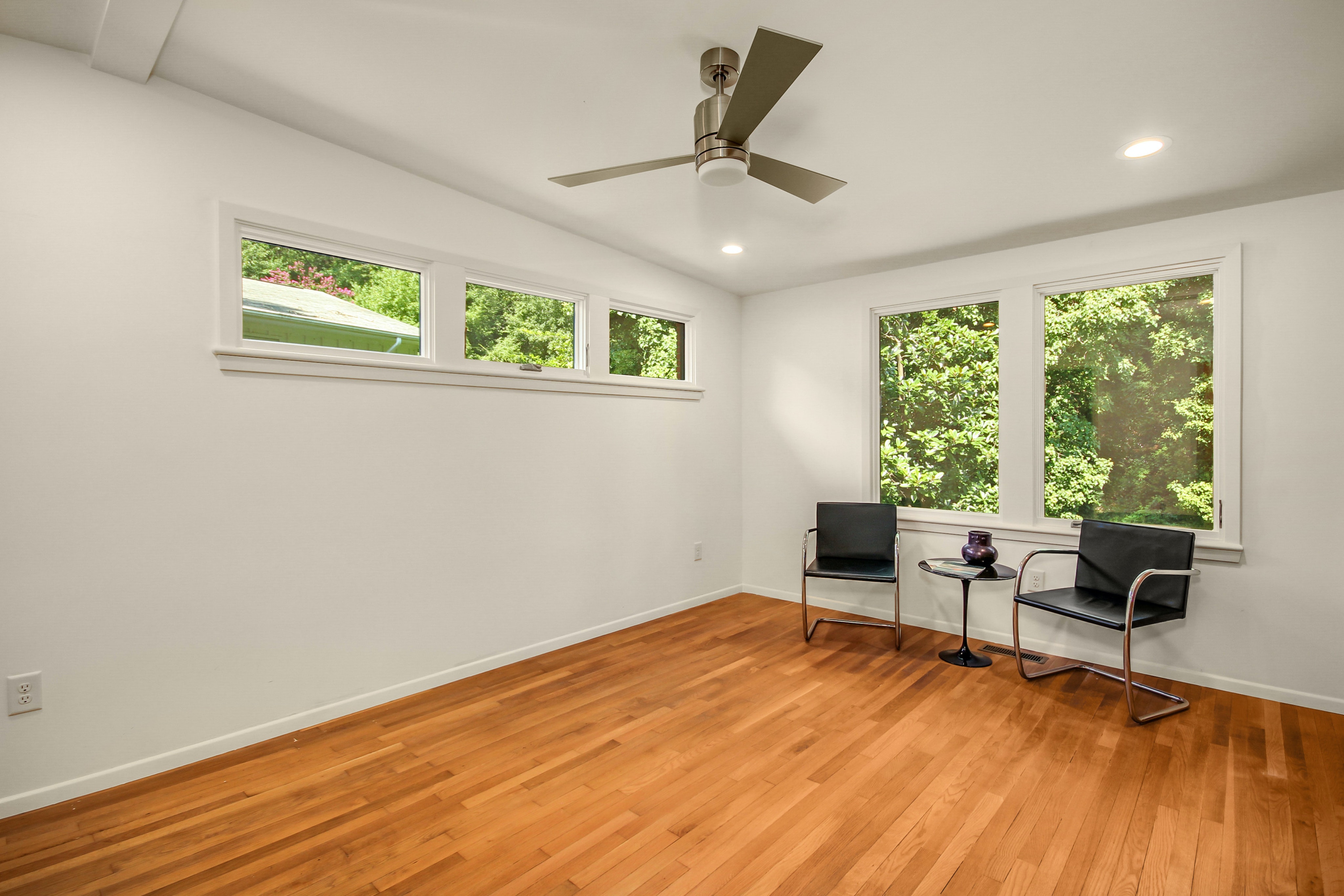 and a 3rd bedroom with studio/office on the lower level.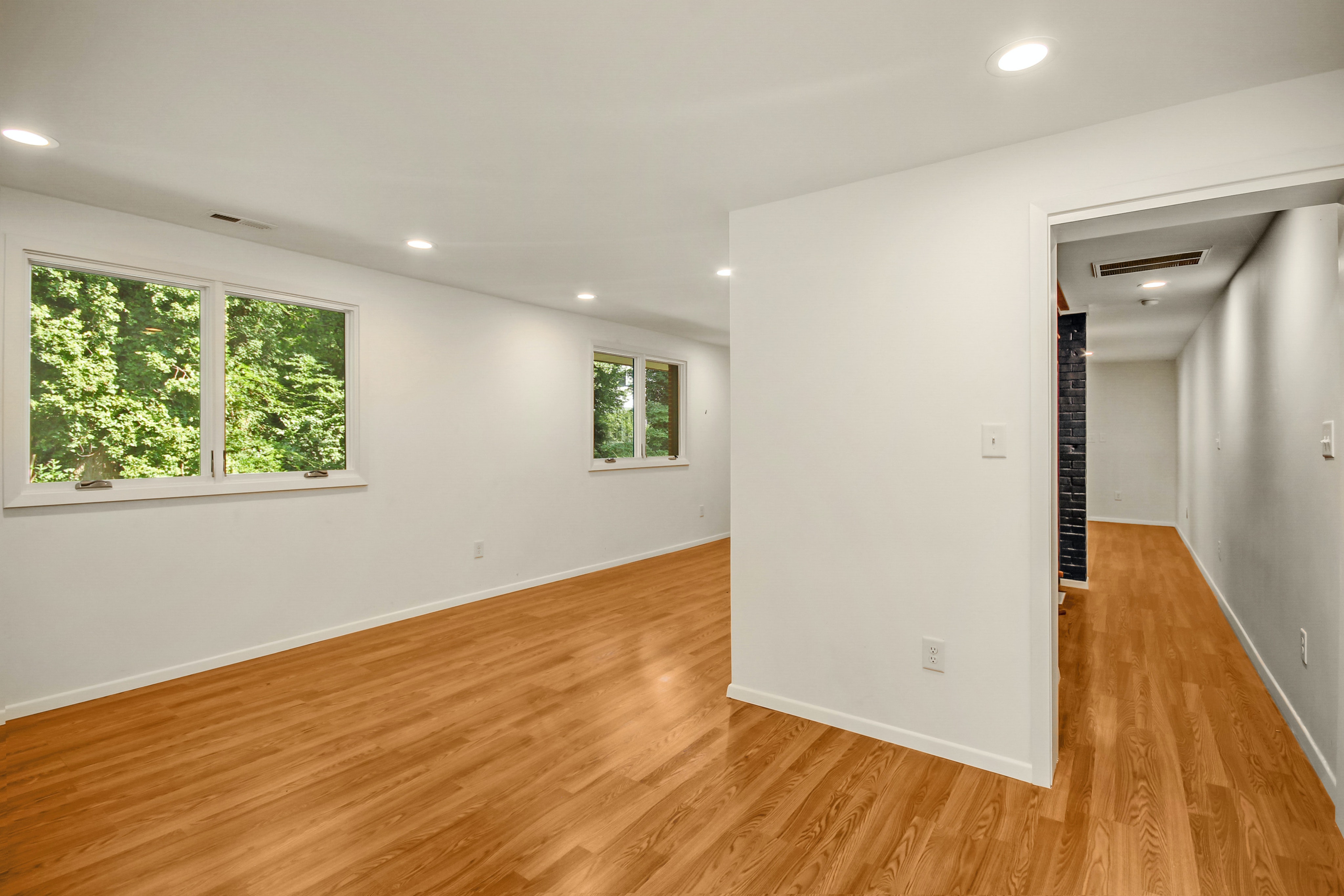 This house is perfect for healthcare workers – park in the lower carport, step inside to the laundry room, get in the shower, and get cleaned up before entering the main area of the home.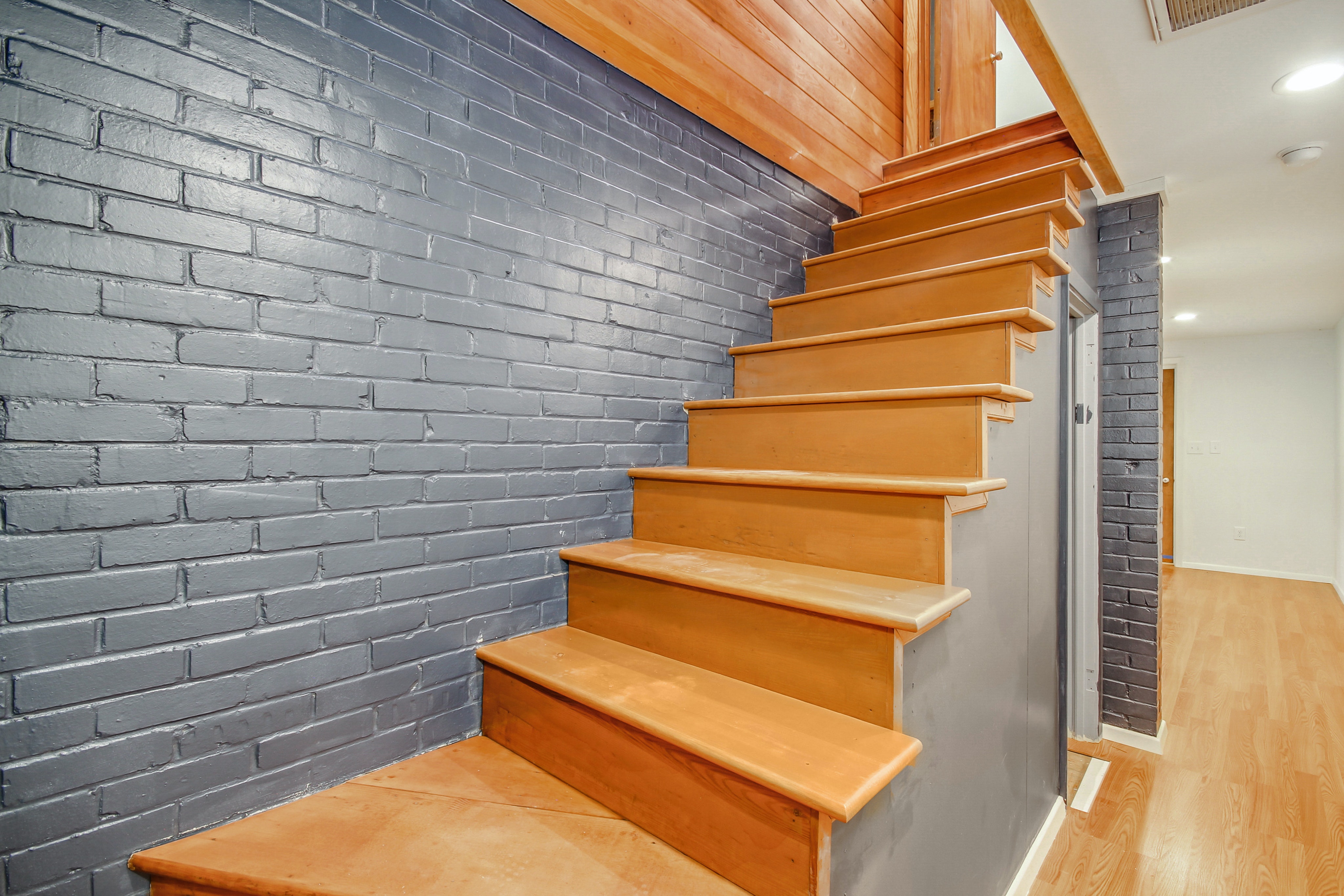 The lot is almost half an acre – so understandably the architectural community is concerned that even though the home has benefitted for recent upgrades, it is still would be at risk of tear down due to the prime locale.
Here are additional shots I took while teetering on an 8′ ladder just to get a view of the rear and side of the house: I just love this house, ever since I walked in when it was being packed up by Mr. Slacks' family a few years ago.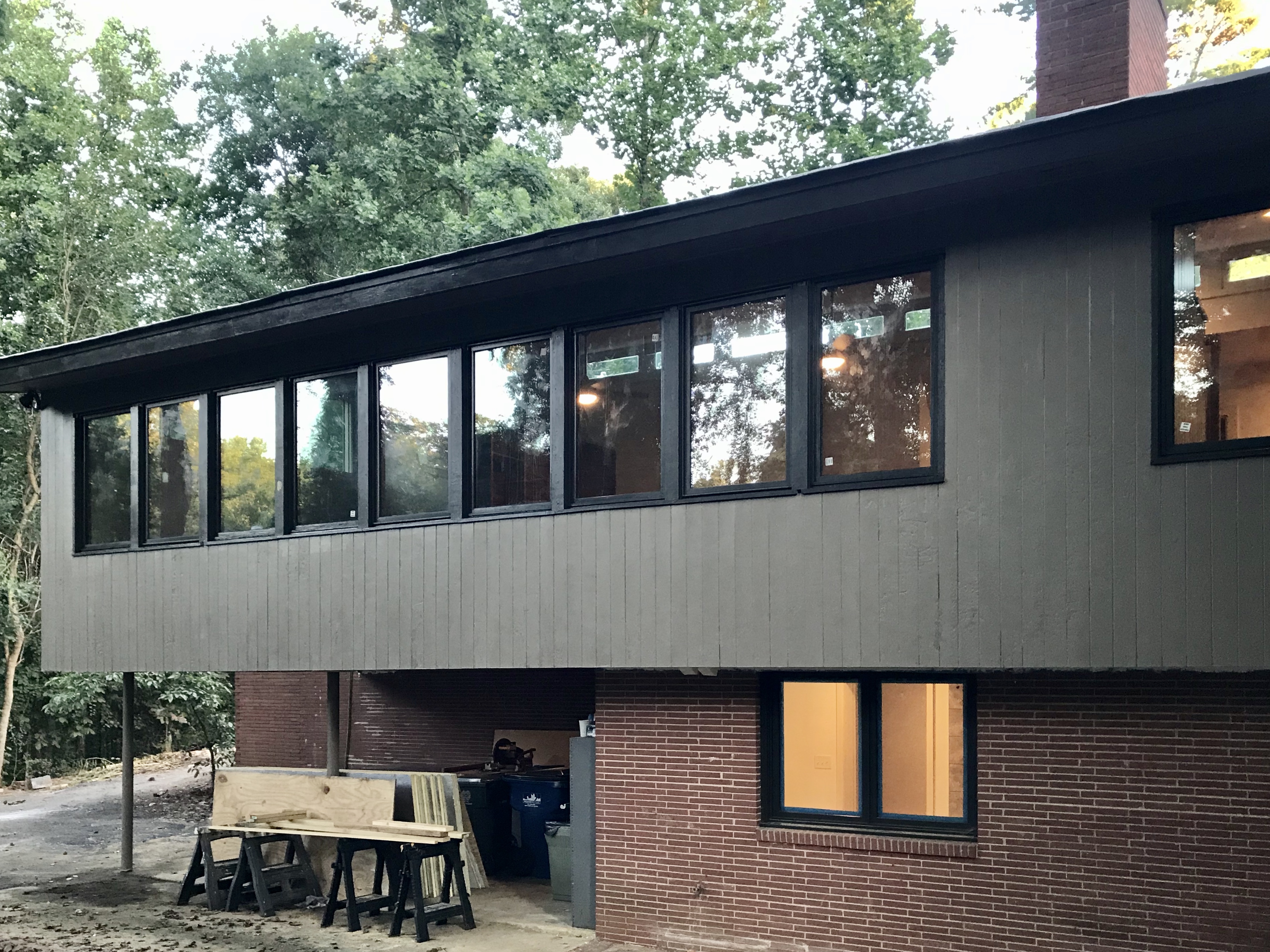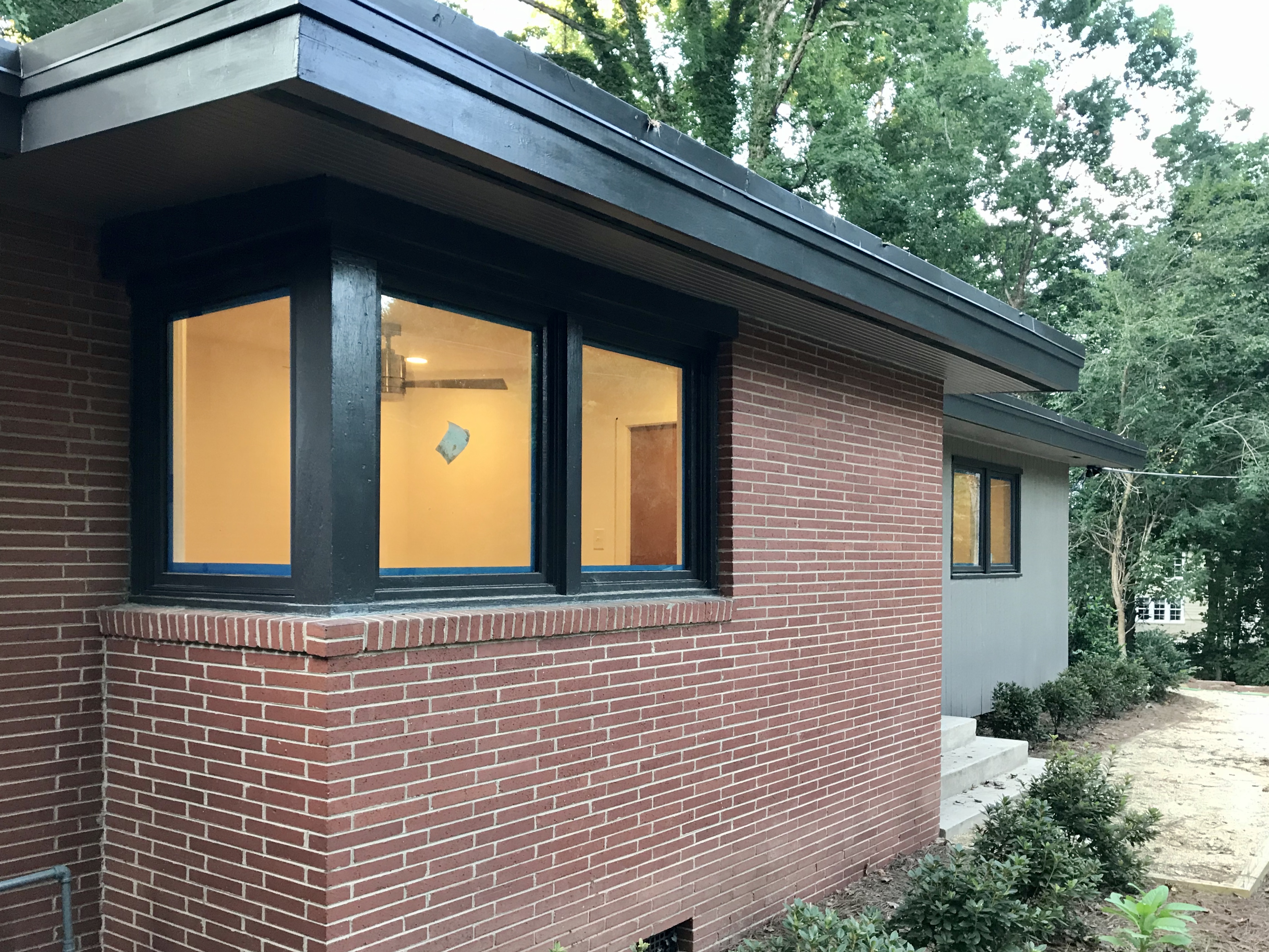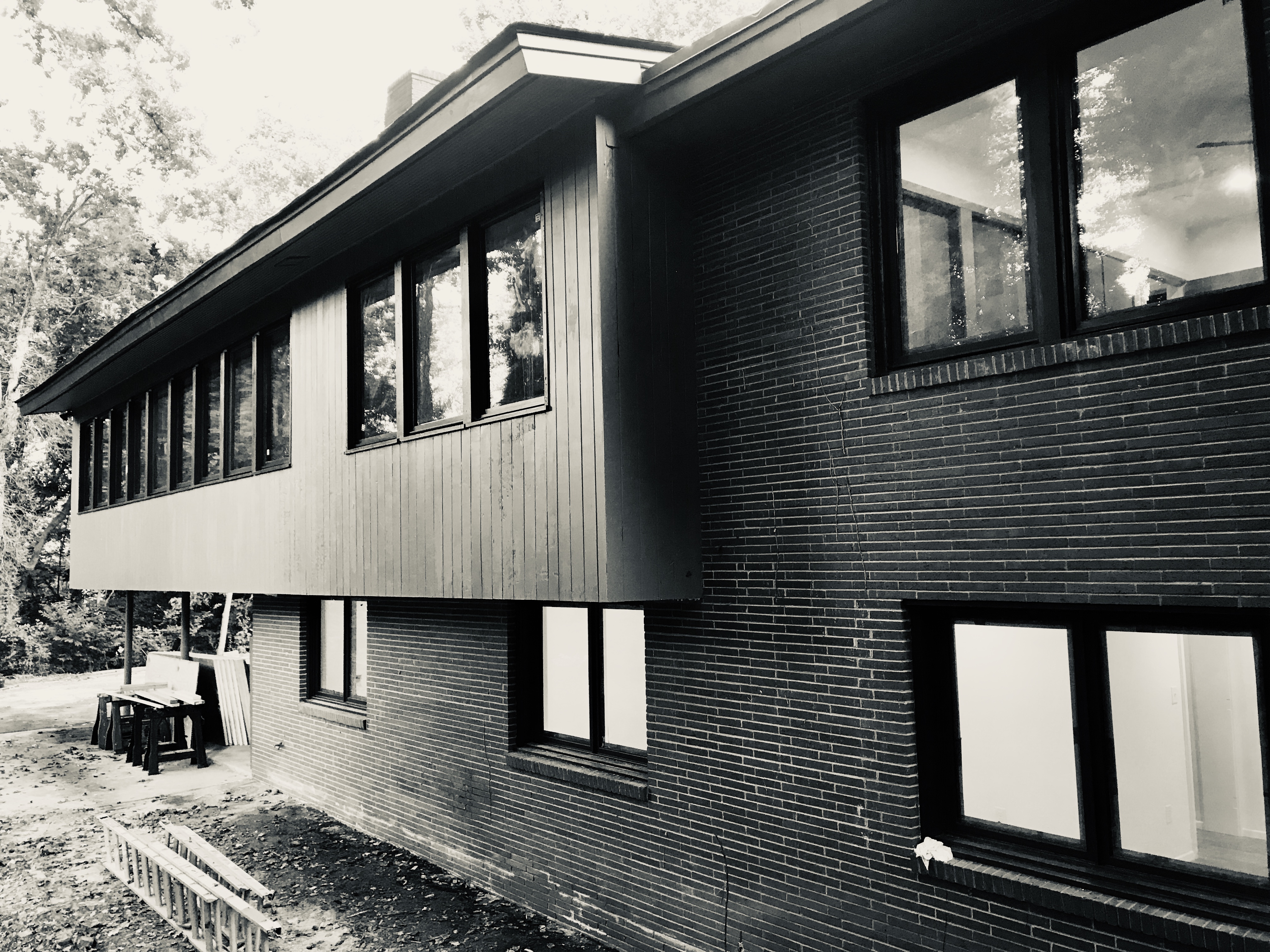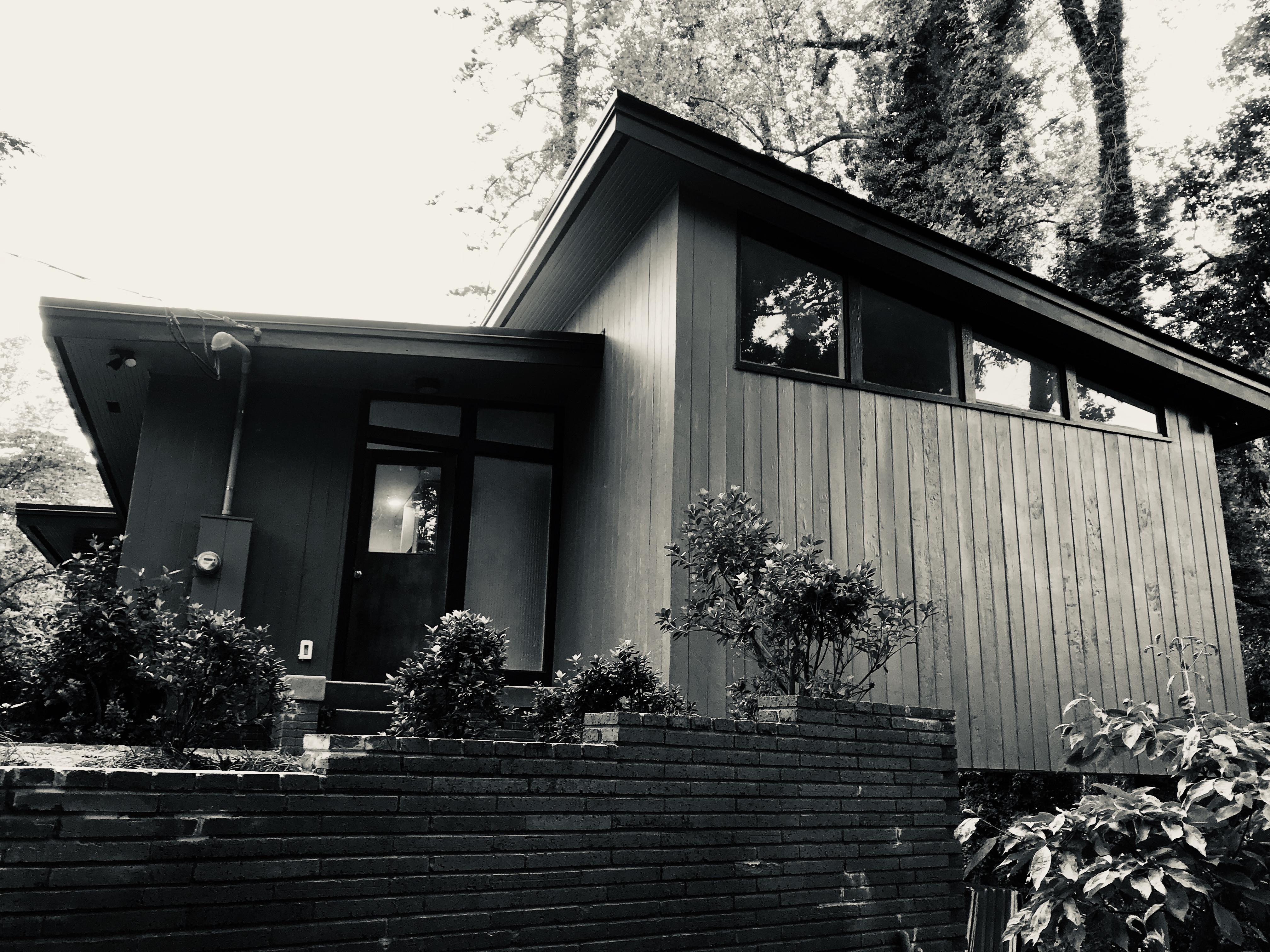 For Additional Details:
This home is listed on the NCModernist.org, a 501C3 nonprofit educational archive focusing on documentation, preservation and promotion of modernist residential architecture.
Click the link to learn more about the architect, and hear an interview with Gil Slack, the second owner.
https://www.ncmodernist.org/williams.htm
Original floor plans exist – and are in a pretty fragile state. Marshall Dunlap, the current owner, architect, and savior of the house, referenced these drawings in renovations, and specifically in the milling of replacement trim work, to match the original exactly with the F. Carter Williams original specifications.
Want to learn more? Call Angela at 919-995-0550.